Welcome
Today's Gospel:
In this week's Gospel Mark tells us that Jesus sent out the Twelve. These twelve were selected from among Jesus' disciples and named by Mark in chapter 3. Mark notes that these twelve are also called "apostles." The word apostle means "one who is sent." The number twelve is also a symbolic number, representing the twelve tribes of Israel. By naming twelve apostles, Jesus shows his mission to be in continuity with the mission of God's people, Israel.
Jesus' instructions to the apostles are very specific. He repeats the mission that they are sent to preach and to share his authority to heal and to drive out demons. Jesus sends them in pairs, establishing his mission as a communal endeavour. Jesus also instructs them to travel lightly, without the customary food, money, and extra set of clothes. These instructions mean that the Twelve will be dependent on the hospitality of others, just as Jesus depended on others to provide for his needs.
Jesus continues to send us into the world as his disciples. But like the first disciples, we are not sent alone. Jesus has given us the community of the Church, which strengthens our life of discipleship. The Christian message can only authentically be proclaimed in and through the community of faith that is the Church. In our work with others, we build this community of faith and can invite others to share in it.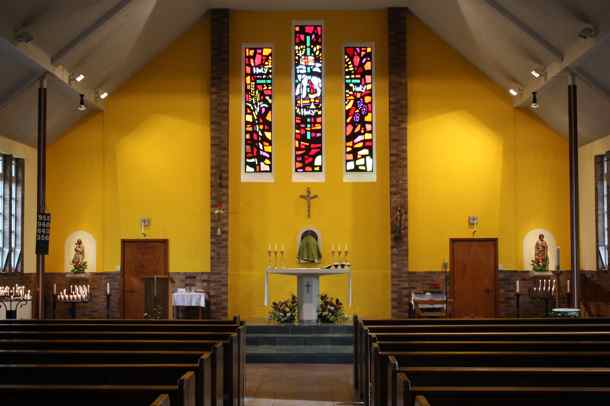 Welcome to the web site for the parish of St. Mary Magdalen Ipswich we welcome all visitors and newcomers to the Church, and hope that you find everything you are looking for on this site. Our aim is to keep this web space up to date with current parish news, information and events, aiming to be accessible for the people of the parish and the community in which we are situated.

Under the guidance and leadership of Fr Mathew, we are looking to expand and enrich our community in youth projects, music in worship, children's liturgy and other areas. If you want to be active in our future please speak with Fr Mathew at the church, or use the contact page. If you have any comments about this site, its content or suggestions for additional content, please use the contact form and send a message to the webmaster.