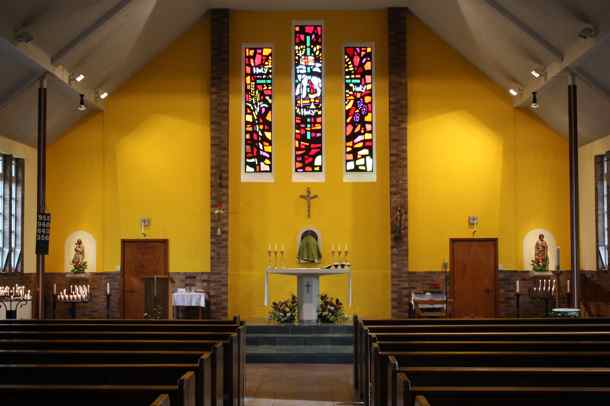 33rd Sunday in Ordinary Time: Today's Gospel
Today's Gospel comes at the end of Jesus' teaching in Jerusalem, just prior to the events that will lead to his crucifixion. His warnings and predictions are ominous but can be read in many ways. To those who first heard Luke's Gospel, those may have been words of encouragement. The destruction of the Temple in Jerusalem by the Romans was history (70 AD); Luke's Gospel, Catholic scholars propose, was written between 80 and 90 AD. His audience was probably Gentile Christians. Luke here tries to interpret the fall of Jerusalem for them and to locate it in God's plans for humankind but at the same time, Luke is suggesting to his audience that there will be a considerable elapse of time before Jesus' final coming. His listeners have likely seen much upheaval and are anxious to know if these are the signs of Jesus' coming. Luke is urging greater patience.
In the second part of today's Gospel, Jesus warns that his followers will face persecution for their beliefs. Luke presents persecution as an opportunity for the followers of Jesus for "It will lead to your giving testimony" (Luke 21:13). In persecution God's wisdom and power will be shown in the example of followers of Jesus. Perseverance in the face of persecution will lead to their salvation. Here Jesus is assuring his followers that God is present to all believers, even in times of trouble. Ultimately, Jesus will witness to this with his own death. As disciples of Jesus, we try to follow his example, trusting in God's mercy and protection, even when we are facing difficulties.
World Day of the Poor - 'The hope of the poor shall not perish for ever'
Today is also World Day of the Poor. In his message for the third World Day of the Poor, Pope Francis reminds us that "the poor are not numbers, but people", to be assisted, accompanied, protected, defended and saved. He recalled that this is not possible without the humility of listening, the charism of the whole, the courage of renunciation. He reminded us that to "follow the way of charity, of humility and of listening means lending an ear to the little ones", because God reveals himself through them. And he asked us not to look down on anyone from above. "You can only look down at a person from above," he insisted, "in order to help them get up". During his audience with delegates of the Caritas Internationalis General Assembly on 27th May 2019, the Pope called for serious action in this regard. He urged us to live our mission with a style of poverty, gratuitousness and humility. He insisted that we cannot live charity without having interpersonal relationships with the poor: living with and for the poor. He denounced any hypocritical and deceptive charity that merely gives alms, and acts as if to salve our worried conscience. For the Pope, charity is not to be equated with philanthropic effectiveness, planning efficiency or even an overstated and agitated organisation. He invited us to cultivate a personal encounter with Christ, in order to meet him in the poor (see Matt. 25). For further details & resources please use this link: www.csan.org.uk
The Feast of Christ the King
Next Sunday we celebrate the Solemnity of Our Lord Jesus Christ, King of the Universe, also called the feast of Christ the King, which concludes the Church's liturgical year. The year ends on a real high point and celebrates the Kingdom of God in all its richness before beginning the new liturgical year with the reflective and penitential season of Advent. The feast of Christ the King is also celebrated, in England and Wales, as National Youth Sunday, and represents an opportunity to explicitly recognise young people as a gift in the Church and affirm their contribution in the life of the local and universal Church. It also provides parishes with an opportunity to focus on the role of young people in the Sunday liturgy and in parish life. Most importantly, it is a chance to pray for and alongside young people. In support of the diocesan activities for our young people, there will be a retiring collection taken for the Diocesan Youth Service.