Welcome
Welcome:
Welcome to the web site for the Roman Catholic parish of St. Mary Magdalen Ipswich. We welcome all visitors and newcomers to the Church, and hope that you find everything you are looking for on this site. Our aim is to keep this web space up to date with current parish news, information and events, aiming to be accessible for the people of the parish and the community in which we are situated.
Under the guidance and leadership of our parish priest, Fr Paul Spellman, we are looking to expand and enrich our community in youth projects, music in worship, children's liturgy and other areas. If you want to be active in our future please speak with Fr Paul at the church, or use the contact page.
If you have any comments about this site, its content or suggestions for additional content, particularly if you could not find the information you were looking for, please use the contact form to send a message to the webmaster.
On-Line Giving
During these times when our ability to attend church in person is impacted by Coronavirus restrictions, please consider donating on-line to our offertory collection. You can do this by making a one-off payment, or setting up a regular payment by Standing Order from your bank account. You can find details here.

Spiritual Communion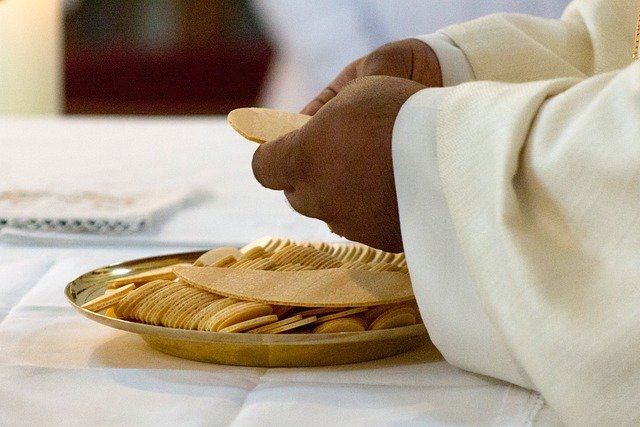 For those occasions when we can't be in our churches, an act of Spiritual Communion can help us keep Christ at the centre of our lives as we worship and pray at home.
My Jesus, I believe that you are present in the Most Holy Sacrament. I love you above all things, and I desire to receive you into my soul. Since I cannot at this moment receive you sacramentally, come at least spiritually into my heart. I embrace you as if you were already there and unite myself wholly to you. Never permit me to be separated from you. Amen
A Prayer for those Affected by Covid 19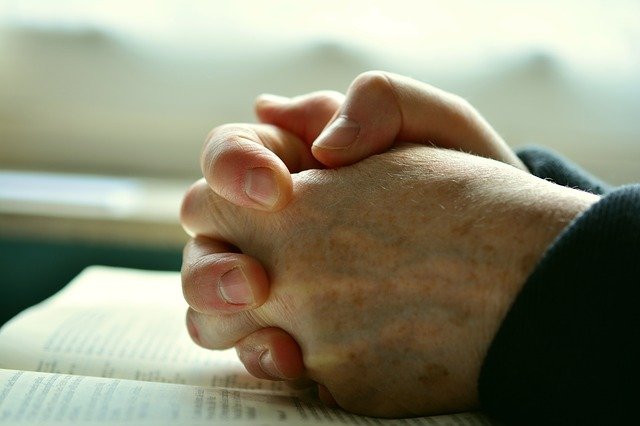 God our Father, Creator of the world, almighty and merciful, out of love for us You sent your Son into the world as the doctor of our souls and our bodies. Look upon your children who, in this difficult time of confusion and dismay in many regions of Europe and the world, turn to you seeking strength, salvation and relief. Deliver us from illness and fear, heal our sick, comfort their families, give wisdom to our rulers, energy and reward to our doctors, nurses and volunteers and eternal life to the dead. Do not abandon us in the moment of trial but deliver us from all evil. We ask this of Thee, who with the Son and the Holy Spirit, live and reign for ever and ever. Amen.
Mary, mother of health and hope, pray for us!
Prayers for the Sick
Almighty and Eternal God, You are the everlasting health of those who believe in You. We ask you to remember those in our parish who are unwell, afflicted or distressed. Grant them comfort, relief and consolation of your Holy Spirit and through the aid of Your tender mercy, restore them to bodily health. Through Christ our Lord. Amen.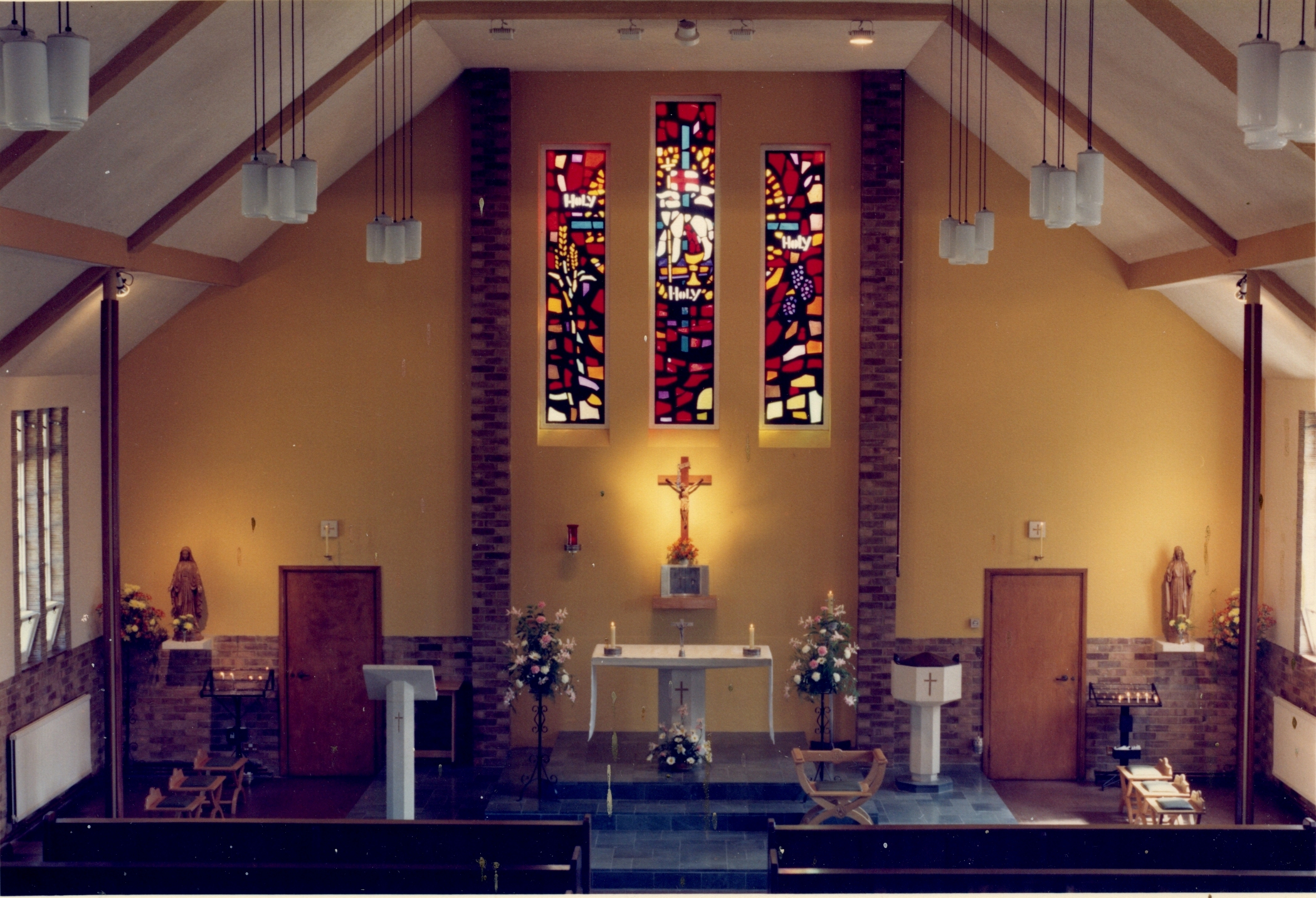 Covid Restrictions
As you know, the Government moved to stage 4 of its Covid regulation relaxation on July 19th. In response, the Catholic Bishops Conference of England and Wales (CBCEW) has published updated guidance for churches which you can read here. At St Mary Magdalen church, these guidelines are being considered at present and steps will be taken in due course to gradually re-introduce some of the elements of our worship that have been banned under previous regulations. The wearing of face masks is no longer a legal requirement, but it is suggested that, in respect of fellow parishioners, people continue to wear face masks in church even if not compulsory.
Until advised otherwise, there will be no Children's Liturgy group, no coffee after church and no hymns sung at 10:00 Mass. From Sunday 25th July, bidding prayers will be reintroduced. However, the homily will still be kept short, the collection and offertory procession still omitted, the sign of peace will not be exchanged and special arrangements for Holy Communion will still apply, with Communion under both kinds unavailable.
We remain supportive of practising social distancing. Please ensure you maintain a 2 metre distance separation from each other whilst entering, leaving and inside church and remember to wear a face covering whilst in church.
The First Sunday of Advent
Today is the first Sunday of Advent. In the Catholic Church, Advent is a period of preparation extending over the four Sundays before Christmas. The word Advent comes from the Latin verb advenio, "to come towards," and refers to the coming of Christ. The term the coming includes three references: first of all, to our celebration of Christ's birth at Christmas; second, to the coming of Christ in our lives through grace and the Sacrament of Holy Communion; and finally, to his second coming at the end of time. Our preparations, therefore, should have all three comings in mind. We need to prepare our souls to receive Christ worthily.
Today's Gospel
Today is also the first Sunday of the new liturgical year. In this new liturgical year, the Gospel of Luke will be the primary Gospel proclaimed (Lectionary Cycle C). Today's Gospel is taken from the last chapter before the passion narrative in which Jesus is teaching in the Temple. We hear Jesus speak to his disciples about the need for vigilance and prayer as they wait for the coming of the Son of Man in glory. This passage marks the conclusion of a lengthy dialogue in which Jesus predicts the destruction of the Temple in Jerusalem, warns about the persecution and tribulations to follow, and identifies the signs that will signal the coming of the Son of Man in glory.
The community for whom Luke wrote his Gospel may have believed that they were already experiencing some of the events Jesus described. Most scholars believe that Luke's Gospel was written after the destruction of Jerusalem by the Romans in 70 A.D. At the time, many Christians interpreted this event as an indication that Jesus' second coming was near.
Though Jesus predicts a time of destruction and fear, Jesus indicates that others will be frightened - Jesus' disciples are not to fear, but are to stand tall. Yet Jesus does not promise deliverance from anxiety or tribulations, he encourages his disciples to pray for strength. The early Christian communities did not find consolation in the promise of a utopia, nor should we. Instead, we find in our Christian faith the means by which we witness to God's unfailing love for us in all circumstances.
Jesus' predictions about the end times may sound dire, but in the next paragraph Luke tells us that people woke early to listen to Jesus' teaching in the Temple area. In his person and in his message, those who heard Jesus found strength and consolation. Like the first Christians, we may encounter events and circumstances that could lead us to despair. Through prayer, however, we find strength and consolation in Jesus' words and in his continuing presence with us to endure all things and to witness to the action of God in our world. Courtesy of Loyola Press
The Advent Wreath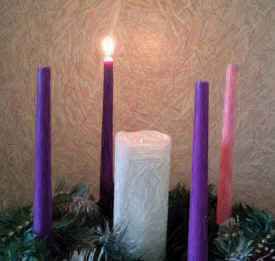 Today, the first Sunday of Advent, we place upon the sanctuary our Advent wreath. This is a circular garland of evergreen branches representing eternity on which five candles are arranged: three purple candles and one pink around the wreath and one white one at its centre. During the season of Advent, one candle on the wreath is lit each Sunday as a part of the Advent services. Each candle represents an aspect of the spiritual preparation for the coming of the Lord, Jesus Christ and as a whole, these candles represent the coming of the light of Christ into the world.
Each Sunday in Advent, a particular Advent candle is lit. Catholic tradition states that each of the four candles, representing the four weeks of Advent, stands for one thousand years, to total the 4,000 years from the time of Adam and Eve until the birth of the Saviour.
On the first Sunday of Advent, the first purple candle is lit. This candle is typically called the "Prophecy Candle" in remembrance of the prophets, primarily Isaiah, who foretold the birth of Christ:
Therefore the Lord himself will give you a sign: The virgin will conceive and give birth to a son, and will call him Emmanuel.
This first candle represents hope or expectation in anticipation of the coming Messiah.
Newsletter
This week's newsletter is available on-line - you can find it here.
Prayer for the Election of a Bishop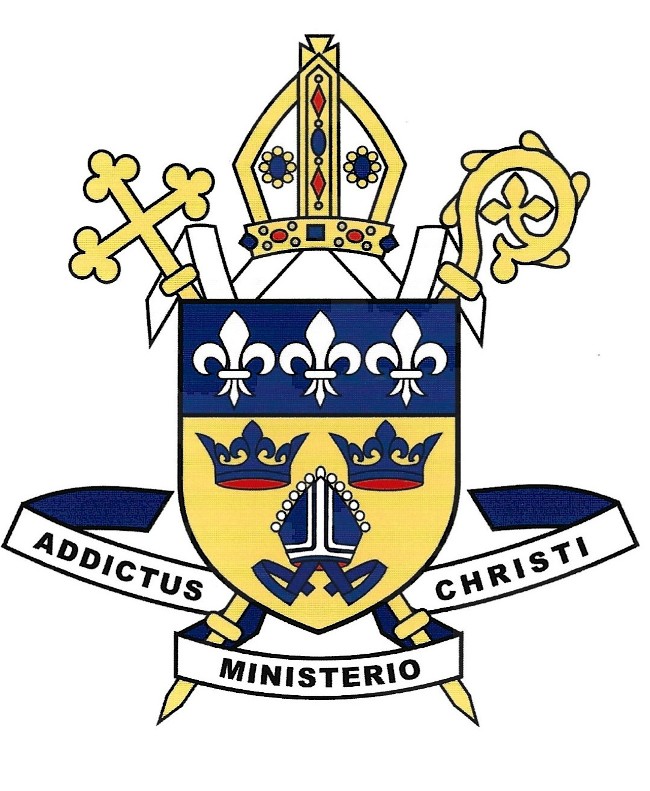 O God, eternal Shepherd, who govern your flock with unfailing care, grant in your boundless fatherly love a pastor for your Church who will please you by his holiness and, to us, show watchful care. Through Our Lord Jesus Christ, your Son, who lives and reigns with you in the unity of the Holy Spirit, God, for ever and ever. Amen.
Our Lady of Walsingham, pray for us.
S. Felix, pray for us
All holy Martyrs & Saints of East Anglia, pray for us.
Prayer of the Icon of St Joseph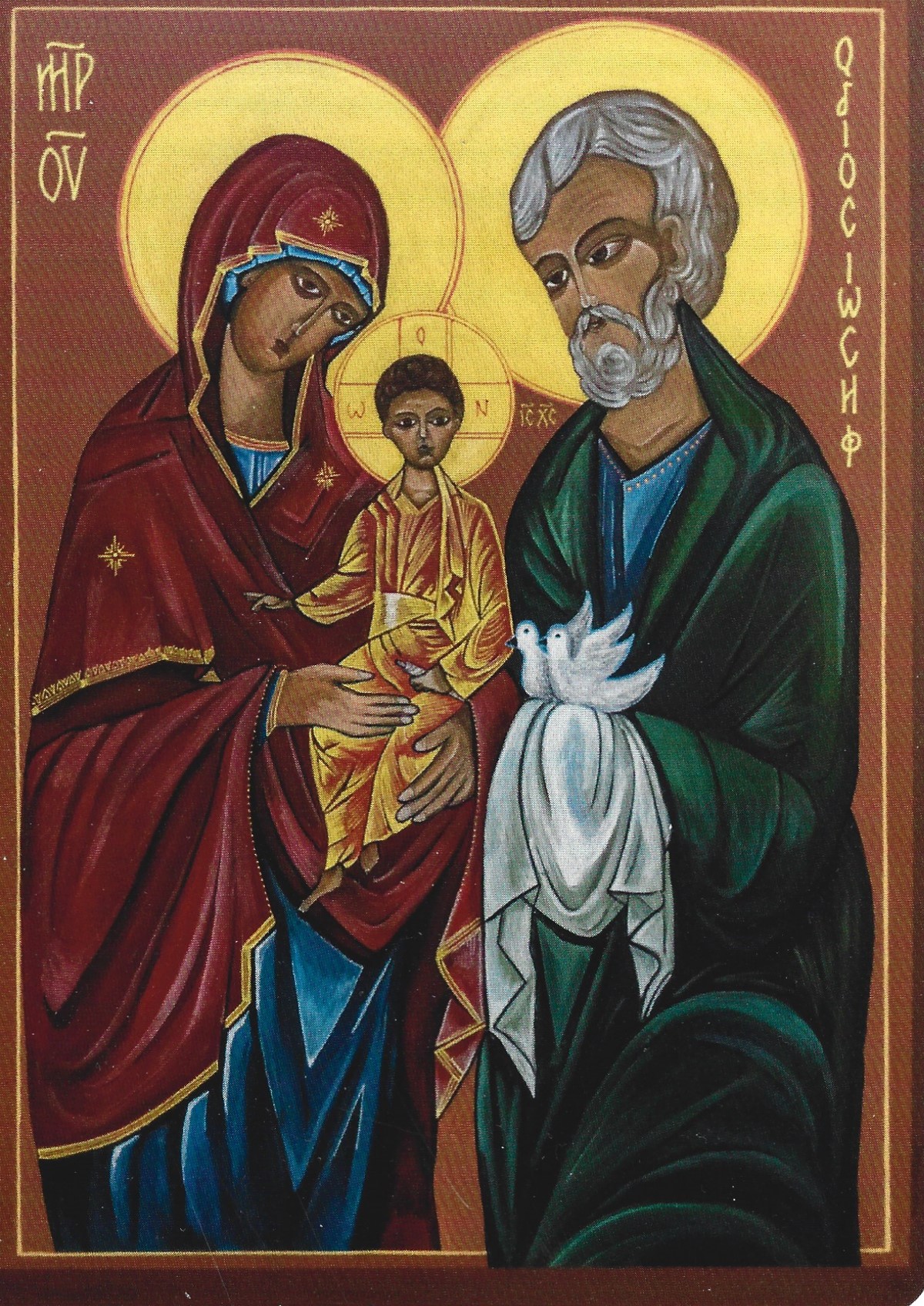 St Joseph, watch over and care for me,
just as you cared for Jesus when he was a child:
and by your help may I come to know Jesus, the Son of God,
and so grow in love, strength and wisdom. Amen
Hail, Guardian of the Redeemer,
Spouse of the Blessed Virgin Mary.
To you God entrusted his only Son;
in you Mary placed her trust;
with you Christ grew to maturity.
Blessed Joseph, to us too,
show yourself a father
and guide us in the path of life.
Obtain for us grace, mercy, and courage,
and defend us from every evil. Amen