The next meeting of the Ipswich CWL will be held on Tuesday 19th November at 2.30 pm in St Pancras church hall. At this meeting, Deacon Chris Brighten will give a presentation on the History of the Church in Kesgrave. This is an open meeting, so if you are interested do come along - you would be most welcome.
---
On Monday 26thNovember, our stone masons will be starting work to reinstate the refurbished font and lectern in the church. This work is likely to take 2-3 days, and whilst this work is in progress, weekday Mass will be held in the Guild Room. Following completion of this work, our flooring contractor will be starting work on Monday 2nd December to refurbish the church floor. To allow this work to proceed, the pews will need to be removed from church into temporary storage in the church hall and in the garage. Here we need your help. We need a working party on Sunday morning, 1st December, to start removing the pews at 11:00 am after the 10:00 Mass finishes. We will then need a further working party to reinstate the pews on Saturday 14th December, starting at 10:00 am. There is a list in the narthex – please sign up for one or even both of these dates so we know we will have sufficient labour available to allow this work to proceed on schedule.
From Monday 2nd to Friday 13th December, weekday Mass will be held in the Guild Room. The evening Mass on 1stDecember and all the Sunday Masses on 8th December will be in the parish Hall. The good news is that we will have the work completed and the church ready well before Christmas.
---
National Youth Sunday will be held on 24th November and represents an opportunity to explicitly recognise young people as a gift in the Church and affirm their contribution in the life of the local and universal Church. It also provides parishes with an opportunity to focus on the role of young people in the Sunday liturgy and in parish life. Most importantly, it is a chance to pray for and alongside young people.

The theme is 'Significance' taken from Christus Vivit: "For him, you have worth; you are not insignificant. You are important to him, for you are the work of his hands. That is why he is concerned about you and looks to you with affection" (CV, 115).
---
There are still registration forms in the narthex for the RCIA (Right of Christian Initiation of Adults) programme. This programme is for adults who wish to be received into the Catholic church and will prepare adult converts for reception into the church at Easter 2020. One of the problems people who are coming into the church via the RCIA process often experience is not knowing people. They are unsure who to choose as a sponsor. It would be really great to have a group of people prepared to be something of a "Christian mentor" to one of our candidates, helping by answering questions, praying for and with them and providing an example for them. Showing that we are not perfect and sometimes things are tough is important too. Someone like this acting as a confirmation sponsor as well makes a really powerful statement. If you think you can help in this way or have questions, please talk to the RCIA catechist Martin Pakes.
---
The parish community as a whole will pray for the departed souls from our parish in the month of November. If you have anyone to be specially remembered, please write his or her name on a piece of paper and put it in the box on the altar. The box will remain on the altar for the whole month of November. There are also special envelopes in the narthex to offer Masses for the dead.
---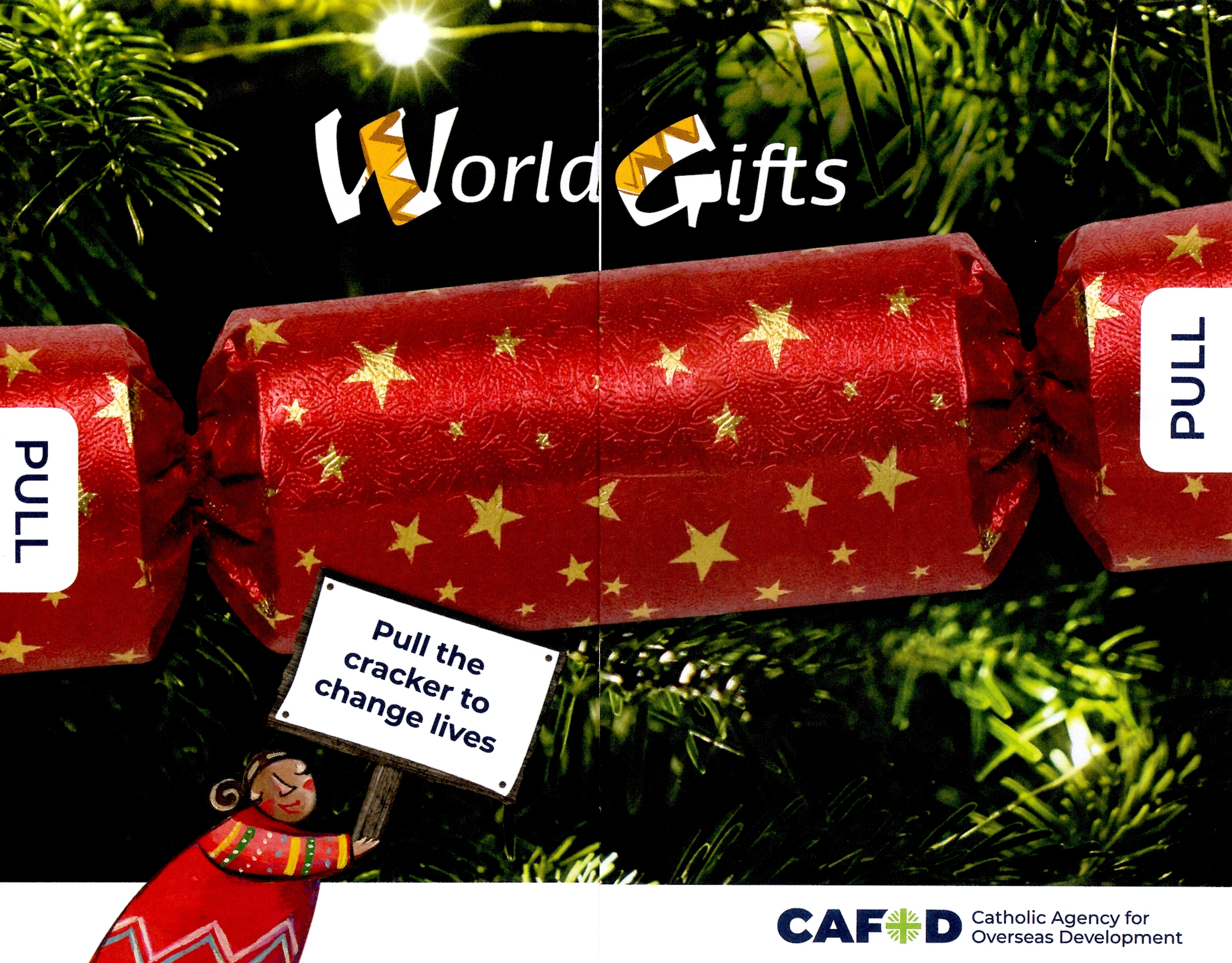 World Gifts are CAFOD's alternative charity gifts that transform lives. Perfect for Baptisms, birthdays and anniversaries, you can choose a unique, virtual gift that will make a real difference to a family living in poverty. And that warm and fuzzy feeling comes with free delivery! With Christmas coming, CAFOD's fun and ethical World Gifts are back ready for the festive season! Buy a virtual gift for as little as £4 and change the lives of those living in poverty across the world.
Visit the CAFOD World Gifts web site now to buy on-line - click the image left and we'll take you there. They have some inspiring new gifts to choose from this year, we're sure you'll find something for even the hardest to buy for!
---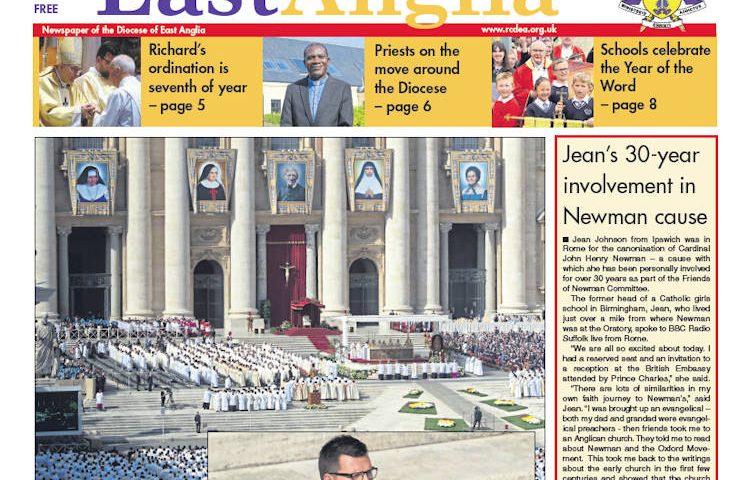 The November edition of the Diocesan newspaper, Catholic East Anglia, is available in the narthex – it is free of charge so please do take a copy and keep yourself apprised of news and developments across the diocese of East Anglia. Alternatively, you can click the image above to read the latest issue on-line.
---
The instruction classes for those on this programme continue today starting at 4:45 pm in the Guild Room.
---
2020 is the 10th anniversary of Verbum Domini – Pope Benedict XVI's Apostolic Exhortation on 'The Word of the Lord' and the 1,600 anniversary of St Jerome's death. These dates have inspired the Catholic Bishops' Conference of England and Wales to dedicate 2020 as a year of focus on the Bible and 'The God Who Speaks'. During the year, we will be celebrating, living and sharing God's word with an exciting new Scripture initiative. It's an opportunity to enrich current practice and to develop and explore new ways of responding to 'The God who Speaks'. Throughout 2020 there will be a range of events, activities and resources to participate in all around the country. To help achieve transformation in our hearts and in our communities there will be three themes of celebrating, living and sharing God's word. Scripture is at the centre of everything the Church does. The word of God shapes our prayer and worship. The Bible shows us how to understand the world, how we are called to live and relate to each other. For more information on this project visit http://www.cbcew.org.uk/home/events/the-god-who-speaks/.
---
RedWednesday is a day of prayer, action and fund raising organised by Aid to the Church in Need, and this year takes place on 27th November. The world is largely silent when it comes to religious persecution, so it is up to us to defend religious freedom and shine a light on the sufferings of persecuted Christians and help highlight the plight of Christians suffering because of their faith – especially in Syria, Iraq, Nigeria, Pakistan and China. In this, our prayers and action are vital. Further information about this year's campaign can be found on the Aid to the Church in Need website: https://acnuk.org/ourcampaigns/red-wednesday.